FreeSchools World Literacy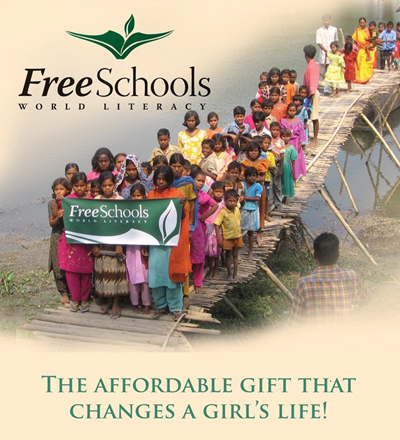 FREESCHOOLS WORLD LITERACY is a support organisation that has grown out of my visit in the year 2000 to a poor convent-run evening school class in Bihar, India.
Read a little more about FreeSchools below.
STATEMENT OF GOALS AND PURPOSE
The purpose of FreeSchools World Literacy is to provide free education in order to break the cycle of ignorance and poverty that leaves millions in hopeless despair. The organization provides free literacy programs; teacher employment and training; income-producing skills, health education; food and clothing; and is documenting changes in the wellbeing of the community as a result of its programs. By providing ongoing funds and scholarships for the existing and planned new schools, FreeSchools World Literacy hopes to replicate its model throughout India, Thailand and other developing countries of the world.
FreeSchools World Literacy Objectives are as follows:
1. To provide literacy programs and classes to members of the public.
2. To develop and provide education and training programs to persons who will conduct literacy training.
3. To develop employment training and education programs for needy persons.
4. To relieve poverty in developing nations by providing food and other basic supplies to persons in need.
5. To develop or promote public health in developing nations by educating and instructing the public on prevention of and curative measures for, health problems and by researching and documenting changes in the health of the community.
PROGRAM ACTIVITIES
FreeSchools World Literacy — Australia — President's Report
It has been nearly a decade and a half now since Mark Bloomfield and I traveled to Motihari Evening School in Bihar State, India in 2000 — a single schoolhouse for the poor children of the village being run by Sister Crescence. There, I realized for the first time in my life, the real need for free education for the poor, and the ability of education to drastically change the lives of those who were lucky enough to get it. I also saw the benefits of that knowledge spread from the student back to their families and to the local community.
Now, fifteen years on, as we enter year 2015, there are over 3,000 students being taught by 87 teachers at 74 FreeSchools World Literacy funded centres in India, Bangladesh, Thailand, and Zambia with donors in Australia having raised a total of $68,709 to those efforts since that time.
Thanks to the continuing selfless work of our overseas field partners; Sister Crescence and the Fakirana Sisters Society in Bihar State, India; Rev. Ashish Amos and ISPCK in New Delhi; Amarok in Bangladesh; the Mirror Foundation team in Thailand; and Immanuel Mercy Reachout Ministries in Zambia; we are seeing the real benefits of this education flow back into the local community.
A total of $6,390 was raised for FreeSchools World Literacy aid projects during 2013 reporting period in the following campaigns:
1. $3,240 was raised for the Thai schools due the efforts of the Townsend family, and Linda Alcorn's fundraising efforts at Whitebridge High School.
2. $1,642 was raised for the Indian FreeSchools in Bihar thanks to the fundraising efforts of a dedicated group of regular monthly donors including Kathleen and Trevor Swadling, Melissa Alldis, Bernie & Merindi Swadling, Andrew & Delphine Swadling, the Coenraads family, the Meredith Family, and members of the Forest Kirk Uniting Church.
3. $1,500 was raised for the Immanuel Mercy School in Zambia, our Africa project now one year old, thanks to the single-handed commitment of Donna Cervantes.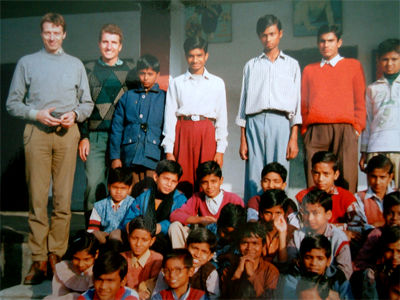 Mark (left) and Robert (2nd. left) with FreeSchools teachers and students, Bihar, India
Last year FreeSchools World Literacy achieved the proud milestone of being granted full membership to the Australian Council for International Development (ACFID) and all of the privileges and recognition brought about by that membership. However it is with deep regret that we now relinquish that membership for 2014, choosing to instead apply the annual membership fee of $1,753.40 to our overseas field projects where those funds can directly help the needy.
Involvement with ACFID during the past 2 years has been of immeasurable benefit; both to FreeSchools World Literacy the organization, and myself personally, as President. To mention but a few; going through the accreditation process and attending various training courses has resulted in a raft of essential policy and code of conduct documents for FSWL and, of course, high-quality audited annual accounts and reportage presented to ACFID standard. Standards that we plan to maintain in the future.
Finally, I would like to thank the FreeSchools World Literacy Committee of Management, many of whom have been members and donors since the Committee's inception.
Dr. Robert Coenraads President – FreeSchools World Literacy (Australia)
P.S. If any of you feel moved to support FreeSchools World Literacy in some way, please feel free to contact me at freeschools@robertcoenraads.com.au, or make a donation directly into the FreeSchools World Literacy bank account.
| | |
| --- | --- |
| Account Name: | FreeSchools World Literacy |
| Bank: | Westpac |
| BSB: | 032 196 |
| Account Number: | 266 690 |

Robert with girls class, Bihar, India
For more information on FreeSchools World Literacy, please visit the organisation's website at www.freeschools.org
---