Robert R. Coenraads (Author) PhD Thesis, 1991, Macquarie University
Abstract
The Central Volcanic Province in northern New South Wales, also known as the New England Gemfield, is one of Australiaís most important sapphire producing areas.
Large-scale mechanized mining and rehabilitation techniques are the most effective means of recovering this resource from beneath valuable farm land. The alluvial sapphires are shown to be derived from the 32-38 million year old alkaline basaltic volcanic rocks comprising the eastern portion of the Central Province via uranium-lead dating of zircon inclusions within the sapphires. Corundum, zircon and other exotic minerals crystallized in coarse aggregates when high proportions of incompatible elements and volatiles were present in early melt fractions. These unusual crystallization products were subsequently transported to the surface by voluminous basaltic magmas.
Surface dissolution or etch features on the corundum occurred in the melt environment en route to the surface. In the East Central Province the post-eruptive fluvial history was vital in controlling the concentration of economic sapphire deposits from lower grade source rocks. The sapphire-bearing placer deposits occur as "shoestring" type accumulations occupying channels within basalt-filled valleys. The highest grades generally correspond to areas where channels are deepest. Minimal evidence of abrasion due to fluvial transport, coupled with the spatial variability in the character of the corundum, and the differences in proportions of heavy minerals in placer deposits, collectively indicate minimal amount of fluvial transport, reworking or mixing. Within these low energy systems the heavy minerals have moved vertically downwards and become concentrated with time. Such observations indicate that the corundum is derived from local multiple sources.
Highly prospective diamond-bearing "deep leads" associated with the palaeo-Gwydir River have been traced under the 19-23 million year old basalts of the West Central Province via reconstruction of the pre-volcanic topography. The palaeotopographic reconstruction indicates at least 3 separate systems of diamond bearing alluvials and therefore, local, multiple sources for the diamonds.
The Central Volcanic Province has been divided into three prospective alluvial target regions. These comprise a western region with Tertiary deep-lead diamond deposits, a central belt with Eocene-Oligocene deep-lead sapphire deposits, and an eastern division with Holocene sapphire deposits.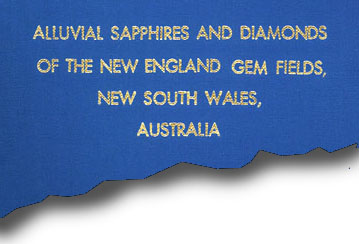 Obtain the entire thesis in PDF format (about 80Mb)